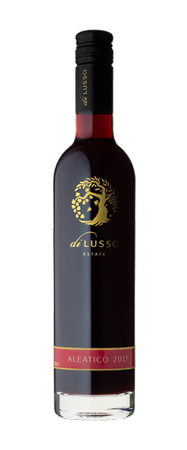 Aleatico 2021
Viticulture and Harvest
A Tuscan wine variety that has been grown in Mudgee since 1920.
Winemaking
Kept on the vine until Bé of approx. 15. Extended maceration. Fermentation and maturing in steel. No malo.
Tasting Notes
Congratulations to the ancient Greeks who first propigated this iconic grape. Aleatico's more recent home is the island where Napoleon was incarcerated for ten months. "He tasted a sweet, ruby red wien that immediately cheered him up. He had discovered the Aleatico wien that would become his favourite tipple."
Aleatico shows a dark ruby red colour, with lifted Turkish delight and rose water flavours, spiced with cinnamon. Carries a palate of medium weight and gentle sweetness. Sometimes fortified. Matches a wide range of dishes, from Reggiano, crackers and di Lusso's rosemary balsamic fig paste, to strawberry tart and of course its classic companion, di Lusso Chocolate Panforte.
May be cellared for 10 years or more