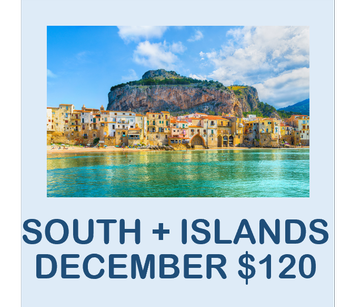 A Banquet from Southern Italy and the Islands
di Lusso Estate presents a selection of the foods and wines of this amazing part of Italy, in a degustation banquet of ten dishes – and as many wines to match the food – over the course of an evening in the Barrel Room.
MENU
STARTERS
Well known favourites such as pizza, sopressa, arancini, and lesser known dishes like schiacia bracia and luganega sausage.
PASTA
Pasta alla Norma, Pasta con sarde
SALAD
Caponata
FISH
Scabbeccio fish soup, sarde a beccafico (sardines stuffed with pine nuts, bread crumbs and artichokes)
PRIMI
Gnocci alla Sorrentina
SECONDI
Bistecca alla Palermitana, bomba Calabrese with fava beans
DOLCE
The widest choice of all – perhaps granita con brioche and cassata – washed down with our own limoncello and perhaps a palate cleansing coffee gelato!