Events
Saturday 18th August 2018 - Degustation di Lusso
This year's Degustation Dinner to the Female Chefs of Italy, with the night's menu featuring eight of the signature dishes of Italy's finest women chefs.
It was no mean feat finding these dishes; less than a dozen women chefs in history have gained 3 Michelin Star ratings, and three of these has been Italian. (including Nadi Santii of Dal Pescatore and Annie Feolde of Enoteca Pinchiorri).
The dishes fo the night will be prepared by our chef Ali McCarthy. The wines are made by David Kyngdon.
Degustation Dinner, 7pm
$120 per person
$100 for di Lusso members
Please call us to book a table: (02) 63 73 31 25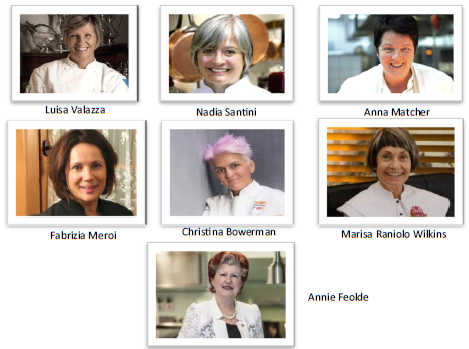 Degustation Menu
Fillet of trout with capers on dark rye bread
Borlotti bean gnocchi with bacon on fossa cheese
Dishes by Christina Bowerman and Fabrizia Meroi respectively
Served with Italian apperitivi
Agnolini in brodo
Recipe by Nadia Santini of Dal Pescatore near Milan
Cacciucco alla Livornese
Livorno fish and seafood soup
Served with our 2017 Vermentino
Dish by Annie Feolde of Enoteca Pinchiorri in Florence
Served with our 2017 Vino Rosato
Garretto di Vitello a lenta cottura
Slow cooked veal, served with a passata of San Marzano tomato, buffalo ricotta and pesto
A signature dish of Fabrizia Meroi of Laite in the Dolomite
Served with our 2017 Barbera
Rack of lamb
Served with Stilton cheese and burnt leek
A signature dish of Christina Bowerman of Glass Hostaria in Puglia
Served with our 2014 Sangiovese
Montasio Friabile
Crispy cheese wafers, served with our rosemary fig paste
A dish on the menu of Anna Matsher's Zum Lowen in Alto Adige
Served with our 2008 Aleatico
Cassata Sicilia
Based on a recipe from Marisa Raniolo Wilkins, the
Australian-based queen of Sicilian cooking
Served with our 2011 Picolit