News
Wine, olives, figs, food and functions... there's a lot happening at di Lusso Estate!
SUMMER NEWSLETTER
There's been a familiar pattern to Summer at di Lusso Estate. A busy November in both cellar and restaurant gives way to a quiet spell in mid-December, replaced in turn by plenty of activity (especially around the pizza oven) from Boxing Day through the second week of January (which is when I am writing from).
While all this is happening at the Winery, life on the farm in general is speeding up. Red grapes are beginning to show some red (known as veraison), we're patching the holes in the fig netting (made mostly by kangaroos over winter), bird nets are on the Aleatico and Sangiovese; the olives begin to show their crop size as they peek out from behind their protective leaves.
And in the gardens, weekly mows are necessary – reducing to fortnightly after Australia Day Weeds threaten to take over everywhere, but for now are hidden by rampant English lavender. The Irises are a distant memory, waiting to be dead-headed.
This time of year, we're weather-obsessed. I happened to mention to a friend in the Bush fire brigade that things seemed to be much quieter than normal - normal this time of year is constant helicopter and light aircraft action coming from the next-door Mudgee Airport. "Na", he said, "There's plenty of action out there – forty plus fires to the north, mostly. That's where our assets (fire-fighting equipment) have gone".
Its been hot. Every day for three weeks from Christmas, we've been over 35 degrees. And there have been a few 40's. That's on average half a dozen degrees hotter than last year. So, it's happening all right.<
But so far, no hail this season (famous last words?). Six days of rain in each of the last three months of 2018 – three days this week already – so we're lucky, all three crops are looking good so far.
Figs are due on stream second week of February. In time for the start of our Festival of Figs 2019. So I've taken the liberty of repeating the dates, in the hope that it'll be popular, as it was last year.
We have a new winemaker!
Our new winemaker, Tony Hewitt, hails from New South Wales – Denman in the Hunter Valley to be precise.
Tony came on board in November last year, and shared duties with Dave Kyngdon before David left in December.
Tony attended Charles Sturt University in Wagga Wagga, and has spent time making wine around Australia as well as stints in the northern hemisphere; in Germany and in America.
In addition to winemaking, he has worked in both the Olive industry and in the cheese sector on Bruny Island.
Tony is a therefore well and truly a 'spiritual Italian' like I am, and I look forward very much to our Italian partnership.
A note on red-white blended wines, and where Arneis fits in
Italy is better known for its premium reds than for its white wines – except for Pinot Grigio and Prosecco. Spain is the same, whereas in France, Germany and Austria the standings of red vs white is either even or balanced in favour of whites.
Yet many premium red wines have, in fact, some white wine in them. The best known of these comes from Cote Rotie in France, where the white grape Viognier is used in a number of premium shiraz wines that the region is famous for. Apart from being handy (the two varieties grow best alongside each other). Viognier adds elements of floral, spicy peach to the meatier flavours of shiraz), as well as rounding out the mouthfeel of the wine.
Champagne, of course, is a white wine blend comprised mainly of red wines. Over the centuries, each component variety has been carefully crafted to best contribute to what is arguably the greatest wine style of all– pinot noir for the body, structure and complexity of flavours, the pinot meunier (apparently - I've not tasted a varietal Pinot Meunier) for a 'ready-to-drink now' fruitiness, and Chardonnay (the most crafted grape of all) provides the elegance.
In Italy, one finds plenty of examples of (usually undeclared) red-white blends. When the Italian government embarked on its gigantic program in the latter part of the 20th Century to clean-up the mess caused by a decades of neglect, they quickly discovered that the main problem resided in the vineyard. For example, the red wine style Chianti came from vineyards that almost all contained Malvasia or Trebbiano, or both (and often more besides!). Two quite characterless white varieties, but easy to grow. The DOCG specification of Italy's most popular red wine only outlawed the use of these two varieties in 2006, some forty years after it was 'discovered'. (I've enjoyed very many Chianti's that probably had more than a tad of the ubiquitous Trebbiano in it – I can't say it did any harm as long as the wine itself was carefully made!).
In Sicily one finds dozens of white blends, some of them very pleasant indeed, made from a whole host of little-known varietals like Grillo, Greciano and Cataratto. These are given volume (and little else, in my view) by Trebbiano, and elegant structure by Chardonnay. for nthe most part, they re unpretentious, but very food - friendly and pleasant.
Here in Australia, the Sem-Sauv blend is one of the country's biggest selling styles (and has no competition in the blended white wine sector). These varieties work well together, with sauvignon blanc adding intensity of flavour and acidity, and Semillon providing weight and complexity. A good balance.
Arneis
This white wine variety from Piedmont has been around for at least five hundred years. Prior to quite recently was used almost exclusively as a blending grape for Nebbiolo, in the making of Barolo, Barbaresco and Nebbiolo d'Alba premium wines. Small amounts of Arneis would either be co-fermented with the Nebbiolo or added afterwards…Nebbiolo is renowned for tannins, whereas Arneis is very low in them. Their use in the blend would be to bring forward the 'drinkability' of the wine, as does the slight sweetness and perfume it contributes to the blend. Historically, most Barolo's needed up decades of aging to achieve enough balance and softness to enjoy for most people.
With the increased use of micro-oxygenation (which mimics the effects of slow barrel maturation) and malolactic fermentation, (where tart-tasting malic acid, naturally present in grape must, is converted to softer-tasting lactic acid), the need for a blending grape fell away.
Most of the Arneis around its natural habitat around the Roero River north of Alba was taken out in the 1990's and early 2000's
Now, the reverse is happening. Our favourite Arneis producer is Malvira, located near the town of Canale, in Piedmont. They have totally changed their business model – from a wholesale producer of 'industrial' Arneis for use by the neighbouring Nebbiolo producers to a premium producer of a very select premium varietal wine producer. They boast a smart cellar door operation featuring five distinct styles of Arneis*, plus a luxury eight guest room agriturismo Villa Tiboldi (pictured below,) situated in their hillside vineyard.
The Villa Triboli…in the heart of Arneis country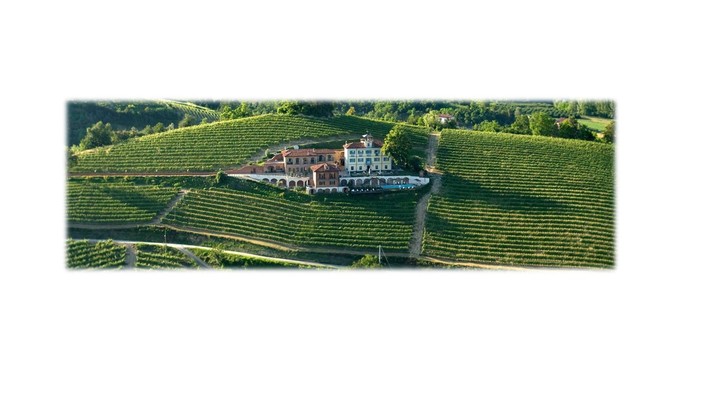 Called Chef Ali's Dish of Summer….Mediterranean Sardine Salad
One of the most popular dishes on our Summer Trattoria Menu is the Sardine Salad.
Ali's recipe is from the south of Italy – picture a Sicilian seaside village – but it could just as easily be Portugal, or Greece, or Croatia. They're at their best, lightly fried both sides and served outside
Sardines go with everything – tomatoes, sauerkraut, curry, egg, mashed with vinegar salt and lemon, grilled, pan fried; in a wrap, skewered, on a pizza, in pasta etc.
And, somewhat to my surprise, they're super healthy. Packed full of omega 3 fatty acids, vitamin D, and high in minerals such as phosphorus, calcium and potassium. Healthier than salmon, even.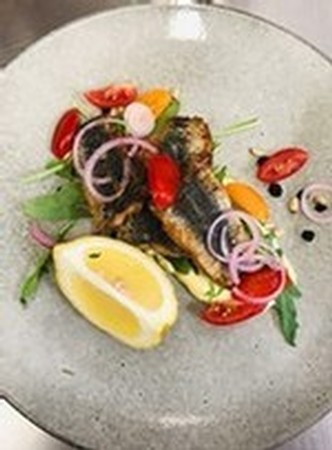 Ingredients (for 4 people)
12 fresh large sardine fillets (easy to find in Sydney, but harder in the country)
One tablespoon of capers, drained
500 g bag of salad leaves
100 g pine nuts
100 g currants
100 ml lemon vinegar salad dressing
I medium size red onion, very finely chopped or sliced
250 g of finely diced tomatoes – the tastier the better!
Method
Set up each plate with a bed of salad mix, capers, currants and red onion. With three for each plate, cook each fillet less than one minute each side and place on the prepared salad. Sprinkle the pine nuts, tomatoes and red onion.
Serve with a glass each of our 2016 Arneis!
Bit of a January Clear out… Some Summer Specials,
and Members' New Release Discounts
I'm pleased to report that our new Vivo! And new Moscato have finally worked their way through the Christmas commercial lethargy, and are ready for sale.
We've absorbed a fair bit of cost increase through the process (whatever happened to inflation at 2%?!) to land both wines at last year's prices. $25 a bottle for each.
The Vivo! Arrived from its carbonation in the Hunter Valley full of lively bubble and nuanced Vermentino flavours. To be enjoyed both 'straight' and with Aperol and soda water!
For this release, we have used Aleatico (a member of the ubiquitous muscat family) for our Moscato. The elements that make this wine truly 'sorbet in a glass' remain. Delicious flavours of lychee and strawberry, gently frizzante and light in alcohol and sugar; over the years this has been amongst our best selling styles, and I think this wine will be very popular, too.
Straight case dozen of the 2019 Moscato and the Vivo! $240 (Cellar Door price $284). Price for the Second and subsequent cases $220
I'm keen to reduce the size of our 2017 Arneis stockpile, to make way for its successor, the 2018 (which in turn needs to be bottled to make tank space for the 2019 which is in good shape in the vineyard and will be wine by Easter). Ah, the logistics of a small winery!
And while I'm thinking about it, I'm in a hurry to get to the 2018 Sangiovese….so the 2017 Sangiovese Rosso is on the chopping block… $165 each a case (Cellar Door price $194) for two or more cases
And there's free freight to most locations – or an extra bottle to Members who collect their wine from Cellar Door.
18 September 2018 |
Robert Fairall
1. Use ingredients that prioritise flavour, ahead of texture or aroma - which is quite different to the way of most French cooking
2. Use precisely the right pan for each dish. Learn what's 'best practice'. The shape, size and thickness and compostion of each is critical to cooking outcomes.
Well, a risotto should be made heavy-bottomed cast-iron skillet to get the soft gluey quality of a good risotto.
A sauté pan, because of its depth and curved sides, is better for braising meat or vegetables than a frying pan.
Pasta should be cooked in a cylindrical pot so the water returns to the boil more quickly once you have added the pasta, preventing the shapes from sticking together.
Ragu, stews and pulses are cooked in pots made of earthenware, the best material for slow cooking, because it distributes the heat evenly.
3. Season during cooking, not after. This rule is closely related to rule 6 below
4. Use herbs and spices subtly, to enhance the flavour of the main ingredient, not to overwhelm it!
5. A great battuto (a mixture of finely chopped vegetables) is vital. Look at cooking as a project on each occasion, and one worthy of following the advice of Aristotle (the world's first professional project manager, "well begun, is half done"
6. Keep an eye on your soffritto (a cooked battuto)… it cannot be allowed to burn!
7. Use precise portioning of pasta to each sauce. It's not hit and miss. Follow the recipe!
8. Taste constantly while you cook. This rule is made easier to follow, as Italian food is mostly cooked on the stove and not in the oven.
9. Serve pasta and risotto alone – don't serve it with a with salad, side vegetables, meat or fish. Avoid the temptation to smother these two dishes with distractions
10. Don't overdo the parmesan, and never serve it with fish or seafood
17 September 2018 |
Robert Fairall
My thoughts turned towards this topic earlier this week when receiving some cellar door feedback on our 2017 vintage wines. "A bit weaker than last years", or "not as much flavour in this one, is there?"
How does one answer this sort of question to a non-farmer…the notion of seasonal diversity?. Particularly in today's food big city world, when the last thing seemingly allowed is a flavour, texture or colour that is different from the last one?
Two things happen when it rains a lot around vintage. Firstly, there is disease. Downy mildew for sure, but also botrytis (not the nice kind), slip-skin, bunch rot etc. I wish grapes (and olives) could learn from figs in being so disease-resistant!
As the 'usual' date for picking draws near, you just know that the flavour and sugar are just not going to 'get there' before the canopy collapses. At this point, if you have enough wine in the cellar door, you just leave it on the vines – for the birds.
But we're nearly always short of enough wine – certainly in 2017 – so the choice before us is between use every trick in the book – different yeasts, reverse osmosis (an expensive method of reducing volatile acidity, adjusting the level of alcohol, concentrating remove sulphides, etc). So the wine tastes just like the vintage before!
…or to do what we do. Enjoy the diversity and unpredictability of the world's greatest beverage. In fact, it's more than a beverage…it's a way of life!
Maybe I'm most of the way to being a 'natural wine producer'? OK, so let's see what makes them tick?
They would say honesty and transparency are the cornerstones of their craft. For a start, assume minimal chemical use. Maybe a splash of SO2 in the picking bin, that's all in the vineyard – almost all natural winemakers are also organic, and also often micro-dynamic as well.
No introduced or inoculated yeast is used in natural winemaking– it's "wild" but and natural, whereas inoculated yeast is still natural in a chemical sense.
The use of wild yeast is another topic altogether. 'Extreme terrorism', a common feature among natural winemakers, insists on it as these yeast by definition 'wild' (coming from the grapes, the vineyard – 'from this place', the definition of terroir.
The di Lusso Estate house view is that there are enough dangers and enough variety in winemaking without risking the disease, uncertain outcomes, and stuck ferments that come with come from wild yeasts!
22 March 2018 |
Robert Fairall
A lot of Italian varieties share the same fate when it comes to missing their historical origins. Vermentino is like that. Although most suggest that the grape came from Gallura and spread in a circular motion in the middle ages, to me its highly unlikely this beautiful, uncomplicated wine would have begun its life in a little region in Sardinia,(its current 'home base').
Not romantic enough! There are other theories. The one that appeals to me most goes along the lines that Vermentino started its journey as a commercial wine in mainland Greece, as long ago as 2000 BC. (With this Greek heritage, it's quite possible that its journey began even further back in time, to the Caucasus near Georgia and Armenia back in 4500 BC!).
This was when the first references were made to wine as a 'social lubricant'. Nice term! Continuing the Greek theme, we note that in ancient times they founded over four hundred colonies in the Hellenistic period alone; including in Puglia, Sardinia, Basilicata and Sicily. The Greeks were well known for taking their favourite tipple with them, and so it was that Vermentino vines came to be planted in Italy.
The wine itself became particularly popular in the southern regions, which was where the Roman army tended to source their invasion kits – grains, vegetable seeds, grazing animals, etc – and vines for planting in their new environment). During the growth phase of the Roman Empire (around 100 to 20 BC), when France and Spain were settled, I'm guessing that's when Vermentino went 'offshore'. (In southern France in Provence and in the Languedoc-Roussillon where it's still there, in the varietal name Rolle).
During the Dark Ages, Vermentino (and many other varieties) disappeared; but turn the clock forward thirteen hundred years or so, and the Spanish Hapsburgs reconquered Sicily (around 1500) - bringing back with them good old Vermentino. Spanish influence hung around Sicily, Sardinia and the southern mainland of Italy for over two hundred and fifty years in gentle sort of way, and Vermentino again thrived – mostly in Sardinia, Tuscany and Liguria.
As Europe headed towards the Napoleonic Age, Austria and France (of course Napoleon was more Italian than French in ancestry, spirit and even influence) replaced Spain in terms of influence down south and in the islands – and it seems they left without taking their Vermentino with them! In the last two hundred years or so, the variety has quietly emigrated from its two Italian regions – Sardinia/Tuscany with its more concentrated, sometimes oaked style, and Liguria, where it's texture and body is very similar to Pinot Grigio –only the nose is different – chiefly to Australia United States.
Despite at times reading otherwise, I can say that di Lusso Estate produced the first commercial Vermentino; vintage 2003, from fruit grown by Bruce Chalmers in Euston (near Mildura).
19 March 2018 |
Robert Fairall
19 March 2018 |
Robert Fairall
Sangiovese is almost certainly the most popular Italian red variety in Australia - and in our di Lusso Estate portfolio. But it's not without a skeleton or two in the closet, and an interesting history. Read on!
Sangiovese is almost certainly the most popular Italian red variety in Australia - and in our di Lusso Estate portfolio. But it's not without a skeleton or two in the closet, and an interesting history. Read on!Navigating your way around the Sangiovese-Brunello-Montepulciano-Supertuscan Thing!
Working in the cellar door on any given Saturday, I'll meet visitors who've been to Tuscany, or who worship Brunello, or who don't know where Chianti fits into the landscape, or who think they know what a SuperTuscan is, or who think that Sangiovese is the grape from which the wine style Montepulciano Abbruzzo is made…and so on. Here how Italy's most-grown grape hangs together – in the vineyard and in the bottle Sangiovese …the most important thing to remember about the grape variety Sangiovese has really only recently been definitively identified. (Previously, 'Sangiovese' was so commonly blended in both the vineyard and winery with other varieties – mostly with poor results- that its charm was not evident).
What has got the variety into 'trouble' at several levels is the fact that biologically the variety's viticultural characteristics can vary enormously due to its sensitivity to location as to appear to be different varieties rather than just variants due to location (very similar to Pinot Noir in this respect). Over the past thirty years or so, many of the best producers have deliberately grown a range of different selections in their vineyards and this attention to detail has resulted in a massive improvement in overall quality. Brunello di Montalcino Nobody has done this more effectively than the good folk of this cute mountain village.
Although 100% Sangiovese, by a combination of careful clone and site selection, then longer maceration (fruit soaking to deepen the colour and extract tannins), the legal addition of 6% of concentrated must, and longer aging in both small oak barrels and in bottle before release, the region's best wines taste quite different – deeper, richer, more opulent- than most of their fellow Tuscan styles. (One either believes in conspiracies or one doesn't! For a number of years in the early part of this century the colour , concentration and fruitier flavours of Brunello were raising eyebrows. And true enough, in a scandal they called Brunello-gate, almost the whole Montalcino wine community; and in particular massive brands like Antinori and Frescobaldi, were found to be guilty of blending large amounts of 'southern fruit' with richer, darker characteristics that was illegal).
Overrated in my opinion; the sooner it becomes a wine more like the Chianti Classico Riserva, the better (see below!) Chianti and Chianti Classico Chianti is a region in central Tuscany. Nestled within it, between Florence and Siena, is the famous wine area known as Chianti Classico (declared by the Grand Duke of Tuscany as Italy's first legally protected wine region 301 years ago). Look for the Gallo Nero symbol, a black rooster inside a purple ring, on every bottle of Chianti Classico. These wines need only 80% Sangiovese to classify – although as the quality of the Sangiovese clones improve there is a growing number of 90 to 100% Classico wines.
There are three quality levels of Classico, depending on vineyard characteristics, age in barrel and time in bottle before release. SuperTuscan Wines In the 1970's, the Italian government decided to do something serious to improve the quality of the country's wines – and Tuscany's in particular. So it undertook a massive audit of practically every vineyard in the country, discovering in the process that practically every vineyard contained an 'assortment' of varieties that did nothing to improve the quality of the wine. For example, most Tuscan vineyards contained a white variety Trebbiano and Canaiolo, a very mediocre red.
To bring a semblance of order to the industry, the authorities established an appellation system along the lines of that established in France, and urged all producers to work towards compliance. In parts of Tuscany, however, several leading winemakers had been experimenting with French varieties – in particular the Bordeaux varieties Cabernet Sauvignon and Franc, and Merlot, and they were very loathe to comply with the new ruling. Over a decade or so, they migrated many of their vineyards to an area around the village of Bolgheri,in western Tuscany where they produced wines that were smart enough to attract the attention of Robert Parker, at that time the leading wine advocate in the world.
Parker (who was renowned for goading the established wine order) is said to have exclaimed – after presumably awarding a whole bunch oh high ninety scores above those awarded to Bordeaux competitors that "These wines are not just Tuscan – they are SuperTuscan". After that the marketing departments of the region over, the prices reputedly doubled, and a new wine 'renegade style' was born. An appellation not recognised by the authorities – to this day they carry an IGT (meaning, in a sense, Not Elsewhere Included), but created a new Italian wine style, one that is very sought!
23 February 2018 |
Robert Fairall
We are often asked whether one should chill a red before serving, and the answer is generally yes, and here's why:
Alcohol has a boiling point of 78 degrees, which is significantly less than water. Therefore, the higher a wine's temperature, the more enhanced the alcohol volatility, resulting in an "alcohol burn."
This alcohol burn is first noticed when assessing the aromatics, and depending on the temperature, it can completely overpower a wine's bouquet.
On the palate, the alcohol cuts through the fruit and accentuates the perceived dryness, resulting in a wine that tastes "hollow, hot and dry."
People generally prefer not to drink red wine in summer, yet if they chilled the wine down to 16-22 degrees before serving, they would find that red wine goes down perfectly well, even on the hottest of summer days.
Yet how cold can you chill a red wine?
Chilling a wine, white or red, will enhance the wine's perceived dryness, bitterness or astringency.
Phenolic compounds called tannins are what cause this "dryness," and they are in a much higher level of concentration in reds than whites – which is why whites can be served ice cold, whereas reds generally cannot be served less than 12 degrees.
That is unless the red wine has a low level of tannin. And if you have been to di Lusso during summer, you may have noticed that we serve our Sangiovese Rosso and our Barbera in ice buckets.
As a rule of thumb, you should serve your reds between 16-22 degrees. This would mean putting the bottle in the fridge for 10 minutes or so before serving.
And if you know that the wine has a low level of tannin, and perhaps even a small residual sugar, the wine can be chilled as low as you'd like.
So, if it's summertime and you're not a fan of whites, choose a light red that can be chilled, and you'll be pleasantly surprised at how well a chilled red wine can complement a meal, or be enjoyed on its own on the hottest of Australian summer days.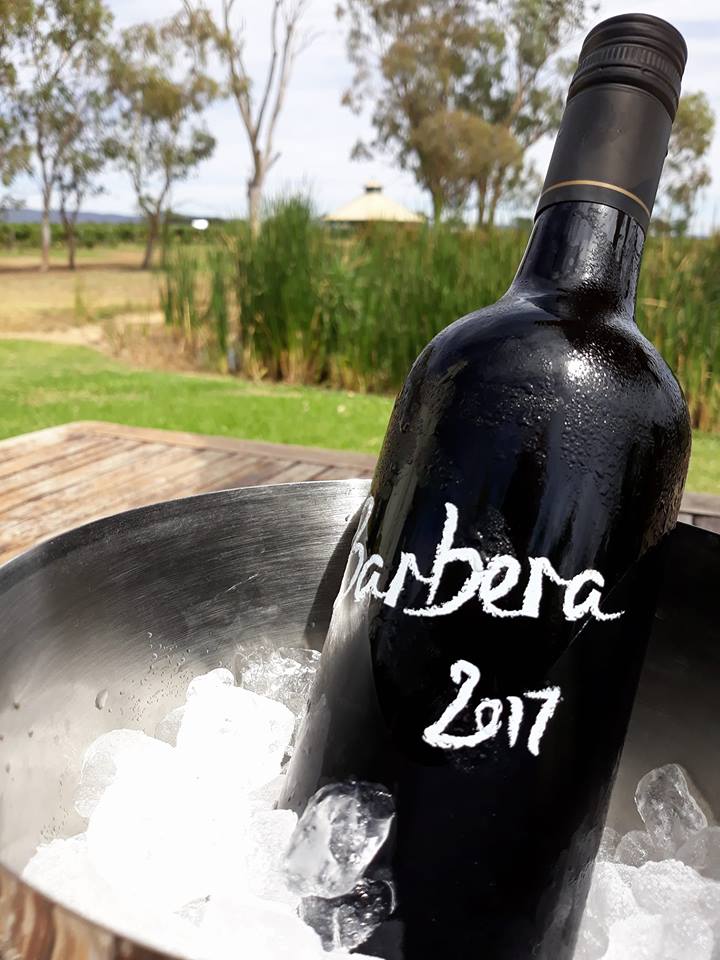 23 October 2017 |
Wine Maker
New Styles to Suit the Season
The 2017 vintage brought various changes of style.
The focus of the whites was to craft fresh, vibrant wines with high aromatic intensity and lower alcohol. This required harvesting a little earlier than usual, followed by gentle processing and cool ferments with highly aromatic yeasts.
Lighter, fresher reds have also emerged from 2017, with Sangiovese, Barbera and Nebbiolo spending less time on skins during fermentation so as to minimise tannin extraction, and little to no time in barrel, to preserve primary fruit characters.
Perhaps the biggest change in style was the Aleatico. Traditionally, Aleatico is an intense, dark and rich dessert wine that is made by fermenting on skins and fortifying to retain a high residual sugar. This was perhaps the greatest challenge of the 2016-17 summer, as Aleatico is not only the bird's favourite variety, but with its very thin skin, the grape is very prone to disease if not highly tended. Every single bunch was inspected while still on the vine all the way up until harvest. The result is an opulent, dark ruby delight… see below.
New Releases
Vermentino 2017
"Floral aromatics with palate of apple, melon and touch of sea spray."
Vermentino's lovely, crisp palate and unique character of salt and white pepper make it the darling of dining along the coast of Liguria and the island of Sardinia – its traditional home in Italy. At di Lusso, we love to pair Vermentino with salt and pepper squid, salads and chicken.
Arneis 2017
"Passion fruit, lime and honeydew, with lovely clean acid."
An early harvest, along with a cold ferment with a highly aromatic yeast, makes for expressive tropical aromas, and a lively palate with notes of pear, nut, tangerine and apricot.
Barbera 2017
"Light cherry, plum and blackberry."
Most reds are fermented on their skins until dry, and this has been the case with our Barbera, yet in 2017 we decided to create a more youthful style: crush to concrete vats, ferment below 24 degrees with gentle maceration, and press off skins halfway through fermentation and complete in stainless steel – much like a white wine.
The result is a delicate wine that bursts with fruit, with a juicy, silky smooth palate that's wonderfully refreshing when served chilled. A fantastic red for a hot summer day!
Picolit 2017
"Sweet pineapple, lemon and melon."
Picolit is a very rare dessert wine, as it is very difficult to grow. We have not made a Picolit since 2013, so we are very happy that 2017 gave us a bounteous crop.
Aleatico 2017
"Dark ruby, with rosewater, sweet blackberry and cherry."
Aleatico was Napoleon's favourite rink when he was exiled to the island of Elba – the variety's traditional home. Rich, dark and fortified, the 2017 Aleatico still retains its distinctive aromatics of cherry and roses.
23 September 2017 |
Wine Maker
The start of the growing season is always exciting.
As the dormant vines wake from their winter slumber, they start to mobilise reserves of carbohydrates, sending a sweet sap up from their roots and trunks, and into their cordons and spurs.
Sometimes you'll see an entire vineyard sparkling with tiny drips of sap; the sap collects on the tips of the spurs before they drop… and in a quiet morning, with the sun still rising, all you can hear is the gentle pitter-patter of thousands of little droplets… and if you catch one, you can taste a lovely infusion of sugar, wood and earth.
Sap rise marks the beginning of the beginning: where the dormant buds start to swell, utilising the sweet sap for growth, before they burst with little woolly buds that splay out rapidly with leaves.
At di Lusso, bud burst happens in mid to late September, with Nebbiolo and Aleatico being the first vines to burst. A heavy winter rainfall gives the vines a great boost, and they will quickly become overly vegetative if left untended.
And so the Spring and Summer work begins: going from vine to vine, removing excess shoots to ensure that the summer growth can be maintained within a healthy canopy architecture.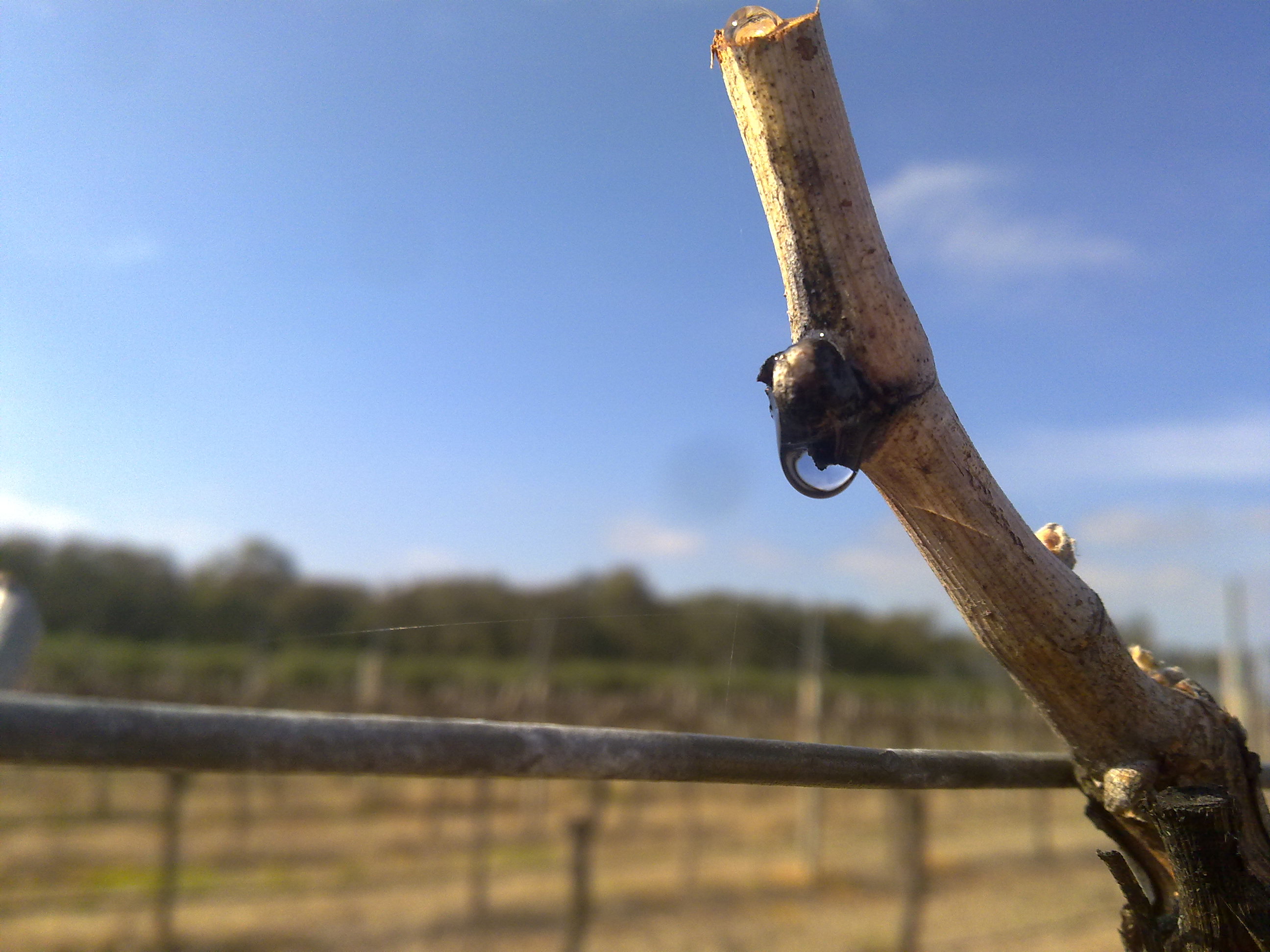 18 August 2015 |
Robert Fairall
At the time of my previous report (alarmingly, nearly six months ago!), we were halfway through vintage 2015 at di Lusso Estate.
Well, I'm pleased to report that both the grape and fig harvest both proceeded to a successful conclusion. On the other hand, the olive harvest was light; again a victim of strong winds experienced in November, when flowering had not yet run its course.
So, with close to 60,000 litres of finished and maturing wine lying around the winery, over a tonne of fig pulp lying in bottles or in our freezers and unfortunately only a few hundred litres of olive oil in tank or bottle, di Lusso Estate winery is busting at the seams right now!
Dave Kyngdon is about to bottle the first of our 2015 vintage. The first bottling (in time for our annual Wine Festival) will consist of Pinot Grigio, Vermentino and Arneis (our first since 2013), Aleatico (again, our first in a couple of years), and Vino Rosato (only a few pallets, lovingly made predominantly with Aleatico). We're proud of all of them; a joy to make after the 'challenging' 2014 vintage!
So far, it's been the coldest winter I can remember for several years on the estate… and still is, as I write. There's been enough rain – at least where we are, but patchy elsewhere, I understand – to suggest the right conditions to set up a good spring.
With everybody expecting a dry El Niño period ahead, there's been plenty of vineyard maintenance, especially irrigation, happening. We're also making a concerted effort to fill in any gaps in the vine rows to attend to in spring, replace the inevitable broken posts, wires etc., and repair the countless potholes caused by both rain and traffic.
In the kitchen, Ali's Winter Menu has been very popular with the visitors – just the right mix of simple pastas, warming soups and hearty stews. This weather makes it hard to believe we're only a month away from 'calendar spring', and taking an early look at our next menu. We might wait a couple of weeks and launch the Spring Menu to coincide with the start of the 2015 Mudgee Wine & Food Festival on the 12th of September.
Talking of that date, it also marks our next Regional Dinner; this one is featuring the food, wine and stories of Alto Adige – Italy's mountainous region on the border with Austria. Details are available at the cellar door or on our website.
In closing, Luanne and I, as well as the whole di Lusso team, look forward to your next visit… hopefully in time to witness the wonder of a vineyard spring!
22 February 2015 |
Robert Fairall
2015 Harvest
A Sicma machine harvester at work...