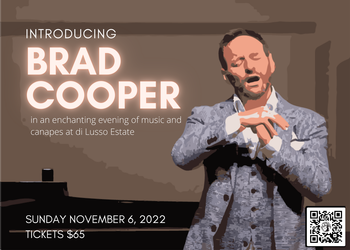 Introducing Brad Cooper
PROGRAM
Appertivo of bruschetta, meatballs and salsa

Concert
Pizza canape
Concert
Mini Risotto canape
Encore
Mini chocolate brownie canape
After the event, we will remain open for guests who wish to meet Brad or extend the evening with a nightcap or pizza on request.
Return bus tickets are available from Mudgee township to di Lusso for $25 per person. Tickets are limited so call Jayne from Jayne's Country Cruisers on 0437654563 to secure your spot on the bus.
Refund policy: Tickets are refundable up to 30 days before the event. A di Lusso credit is available up to 14 days before the event. After 14 days before the event, tickets are non-refundable, and no credit will be provided if you cannot attend.