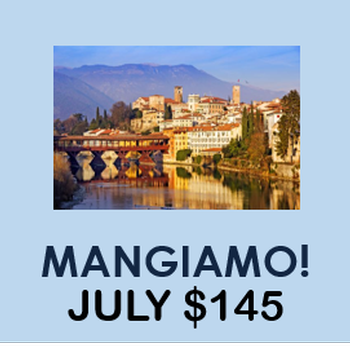 Mangiamo! July Regional Dinner
Here's the menu:
Spuntini:
Prosciutto di Parma, aged balsamic on Regiano, Culatello di Zibello (cured ham), di Lusso Estate EVOO and home-baked bread.
Served with Aperol spritz and Prosecco, and Bellini Cipriani Cocktail from Venice.
Zuppe:
Risi e bisi (a pea and onion soup from Veneto).
Served with di Lusso Estate Vino Rosato and Vericcio di Matelica DOC.
Pasta:
Tortellini in Brodo (Tortellini in broth from Emelia Romano).
Served with Vignetti del Sole Soave and Range Life Gargenega.
Pesce:
Sade in Saor (a dish from Veneto featuring sardines, onions, raisins and pinenuts).
Served with di Lusso Estate Pinot Grigio and Fattori Danieli 2018.
Seconde:
Stinco di Agnello Brasto with spaetzle (braised lamb shanks with dumplings from Trentino-Alto Adige).
Served with di Lusso Estate Lagrein.
Formaggio:
Tallegio cheese (washed rind cow's cheese) with rye bread from Bolzano.
Served with di Lusso Estate Picolit 2017.
Dessert:
Torrone semifreddo (Italian nougat flavoured semi-frozen mousse).