1 January 2022 | Italian Wines, Winemaking | Robert Fairall
A Challenging Harvest
Harvest time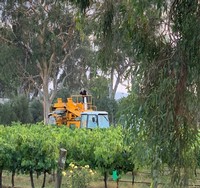 Before an enterprising American wine reviewer and writer named Robert Parker came on the scene in the 1970s, one couldn't rely on 'vintage reports' for accurate assessments of the quality of a region's harvest.
Before his arrival on the scene, harvest reports were basically put out by the trade to sell wine. As I think about it, some still are!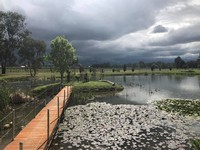 Rain and temperature are the two factors that will either make or break your vintage.
Neither were in our favour this year, with low spring temperatures and inconsistent but mostly very high rainfall experienced from September onwards - including, most recently, March.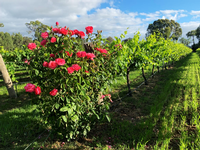 In summary, Sangiovese, Vermentino and Barbera suffered most, whereas our Nebbiolo, Lagrein, Arneis and Aleatico produced crops that though somewhat light, will produce good wines.
(I'm assuming a good outcome for Lagrein and Nebbiolo. As I write this report, it's bucketing down for the fourth day in a row. One more day's rain, and I reckon we'll have no reds at all in 2022!)
---
Elsewhere on the farm...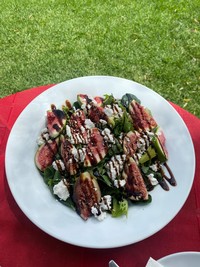 Our figs, on the other hand, after a late start have since early March been delivering beautiful fruit – which is now forming the basis of some lovely Autumn menu dishes (like our delicious Fig Salad!)

Fresh figs are also available for purchase from the Cellar Door.

And olives? What olives. After the bumper 2021 season, they're having a rest, as they tend to do.
---
Our new release Vino Rosato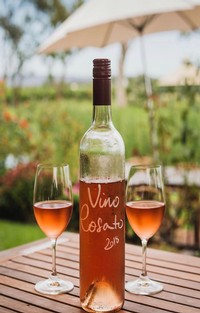 As I feared, our Sangiovese-based rosé from the 2021 vintage didn't manage to last till the 2022 release – it was a very popular wine indeed. To make matters even more challenging, we have no 2022 Sangiovese fruit with which to craft its successor. (We make our rosé by using the French saigné method of ''bleeding" free-run juice from the base wine – in our case, Sangiovese - to arrive at a savoury, food-friendly wine rather than a fruity one.)
So instead, we decided to use a different method altogether by simply blending a 2021 Sangiovese with a 2021 Fiano post-fermentation (a practice which is actually prohibited in Europe — except for the making of rosé Champagne).
After adjusting slightly for sugar, we bench-trialled the result until we got close to the flavours and textures of the 2021 Vino Rosato of di Lusso Estate. This blended method will remain a fall-back option only.
---
Light at the end of the rainbow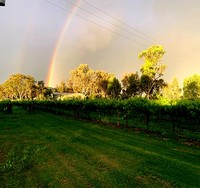 Despite the many challenges sent us by the weather and supply chain disruptions, we look forward to some great upcoming events at the Estate.

In addition to our Fig Dinner, we have our Concert and Canapes on Easter Sunday and plans for movie nights over the next few months. We will keep you posted!