13 July 2022 | Italian Wines, Winemaking | Robert Fairall
A Mudgee Winter Wonderland
---
A vigneron's view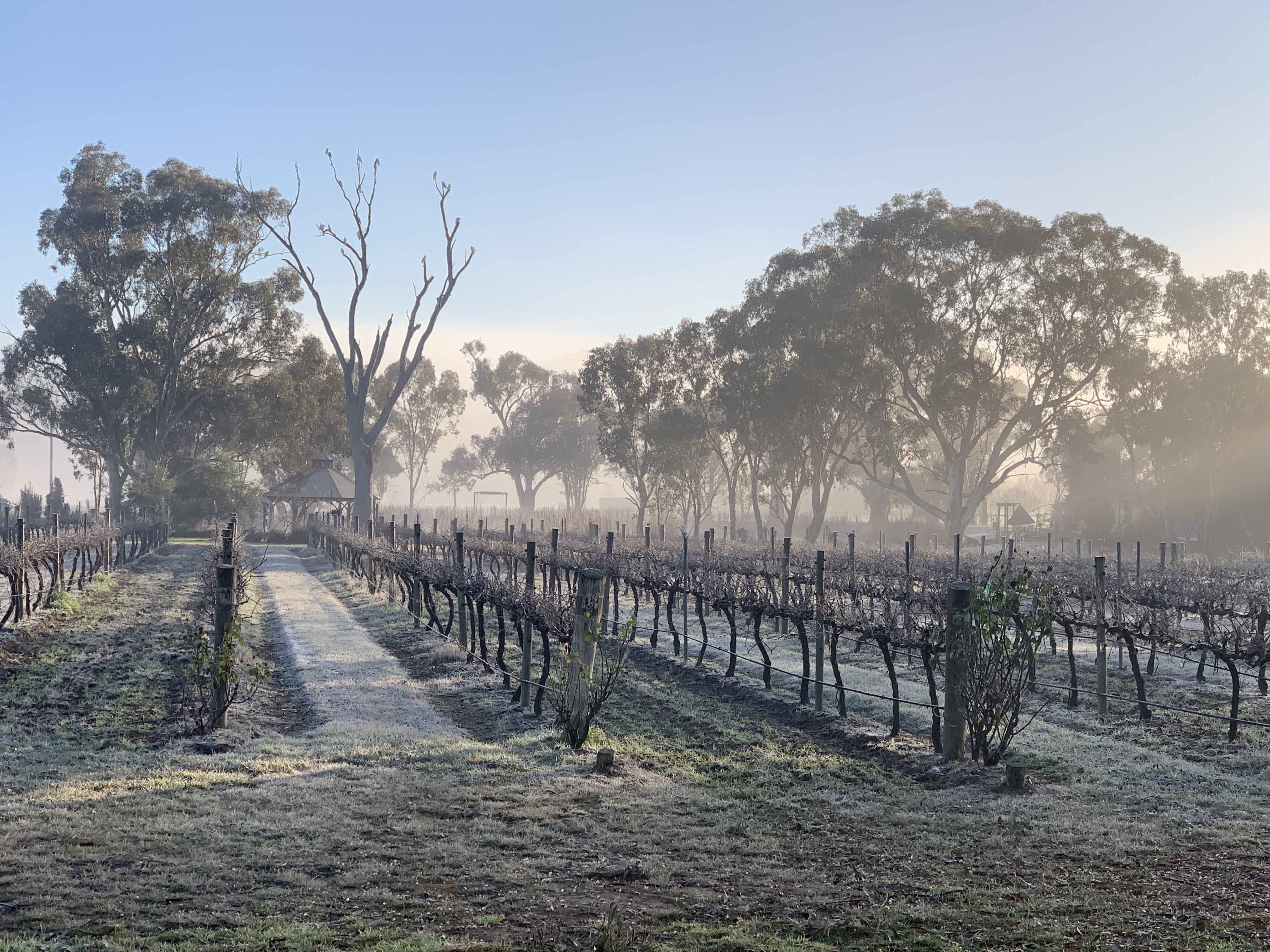 Winter came early this year. Our first frosts were in the first week of May, and as I write this newsletter – we're up to around twenty frosts...

Despite this number (my benchmark to start pruning), the combination of the soaking vineyards from vintage 2022 and the fact that most frosts have been light, the juice has only now stopped flowing.
Our vines are mostly around twenty years old and show their age in damaged or missing cordons (the horizontal 'arms' that extend out from the trunk). So before manual pruning begins, we are repairing broken cordons achieved by laying a convenient cane from last year along the wire.
In a very short time – by next March - the extension will be fruit-bearing. Painstaking work, but necessary if one wants future crops to make up for the inevitable reduction in productivity caused by aging vines. By the end of the day in the vineyard, the body is tired and the fingers numb.
This is quite a neat segue into this blog's wine feature...
---
Vin Brulé
...Which is vin brulé – Italian sweet and spiced hot mulled wine made with red wine and orange juice that puts the body back into order. There are various types of mulled wine served around the world – vin chaud in France, gluhwein in Germany – so here's the mulled wine from Italy. Their recipes are remarkably similar!

If you like it a bit sweet, pick one that says 'Semisecco', 'Amabile' or 'Dolce' on the label. If you like it dry, look for the words 'Secco' on the label (with this style the flavours are more rhubarb or strawberry). Lambrusco di Sorbara and Lambrusco Rosato (rosé) are the two lightest styles, showing strawberry, and very little or no tannin).
The Recipe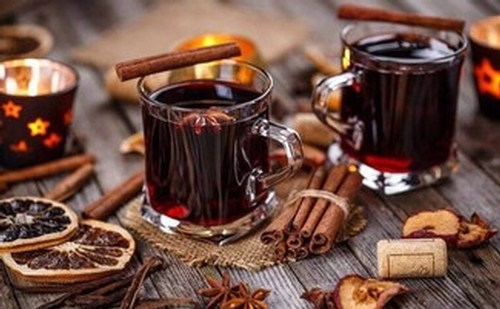 Prep Time: 15 minutes
Serves: 6
Calories: Not available!


Ingredients
750 ml red wine (Barbera, Cannonau or Lagrein*)
120 g sugar
1 orange
2 cinnamon sticks
2 star anise pods
10 whole cloves
*My choice would be a fruit-forward (as opposed to savoury) wine that is not aggressively tannic. But it's your palate, and no wine would necessarily be out of bounds.

Instructions

Thinly peel the orange using a vegetable peeler to get as little as possible of the white bitter part. After that, cut the orange in half and squeeze it. Transfer the orange juice and peel to a saucepan.

Add the sugar, cinnamon sticks, cloves and one glass of wine (about 150 ml) and bring to a boil, constantly stirring to dissolve the sugar.

When the mixture reaches boiling temperature, add the star anise pods and the rest of the wine and keep it on the stove until it steams but does not boil. Remove from the heat just before it reaches boiling temperature. Serve hot.

Notes

Serve hot, as soon as possible after preparing. If you cannot serve it immediately, keep it on the lowest possible heat to prevent it from reaching boiling temperature (you don't want to evaporate the alcohol!).
Vin brulé and food
In Italy, panettone is clearly the most popular food companion for brulé, especially around Christmas. But there are plenty of other popular matches amongst Italian foods. These would include gorgonzola gnocchi, cheese fondue, mixed nuts and gingerbread biscuits.
---
Cannonau
The fact that vintage 2022 was pretty dismal in Mudgee is no longer news. It has led to there being no 2022 Barbera from di Lusso. I'll miss the fruity mouth feel and spicey palate that is so different from the savoury taste profile of Sangiovese.

So, with the help of friends down south around Mildura, I've 'discovered' Cannonau - a premium red wine in the style of Grenache - whose home is on the island of Sardinia. The Italian DOC system permits the production of several different styles of Cannonau. Because of the body of our first Cannonau release (due in July), and its twelve-month aging, ours would most closely resemble the top-quality 'Riserva' style.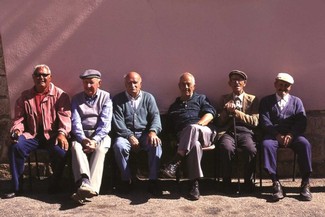 It's estimated that one in five wines consumed in Sardinia is a Cannonau (and, I'd guess, another one in five could well be Vermentino!). Cannonau wines have attracted considerable attention in the last few years for their association with longevity. Sardinian locals tend to live well into their 90s and, in many cases, to over 100, and diet on the island is usually given as a key factor in this. Cannonau wine tends to be high in anthocyanins and polyphenols, antioxidant-rich compounds which have been linked to heart health.
Well, there you are!