14 December 2020 | di Lusso Estate | Robert Fairall
2020... The year that was.
---
It didn't start well, did it?

Travelling to Mudgee town for my morning coffee and Sydney Morning Herald in thickening smoke from the first day of the New Year, I consoled myself with the twin thoughts that 'the fires' were still a hundred or more kilometres away and surely unlikely to damage the grape crop from that far off, and secondly we were off the mid-March for our annual trip to Europe. Earlier than usual, just in case the rumours of a dangerous virus from China was heading our way later in the year...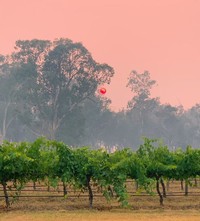 Well, we all know what happened. Sneaking out of France a day before all flights were cancelled – thanks to Qatar Airways, after Qantas and others had abandoned us! Straight back into reports that the 2020 grape crop was almost certainly non-existent (we had already lost the 2020 olive harvest due to huge hot winds in November that had literally burnt to death every flower in the grove), entire 'lock down' of di Lusso Estate's commerce, and nobody willing or able to venture a guess as to when things might open up again.

As I write, thanks mostly to our 'lockable' borders and judicious crisis management were still in the game – and thanks to the people of New South Wales for discovering in hordes the vineyards of Mudgee, we finished the rest of the year in good shape. Apart from a shortage of wine to sell at cellar door – due not to our tanks being empty, but rather to the very extended supply lines from interstate of bottles, printing ink, mobile bottling facilities etc, we were in business still. And now I can report that, thanks (I'm using that word a lot lately!) to hard work from the team, our shelves are full again!.
---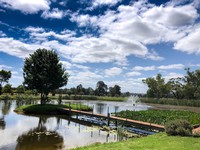 We bottled 2019 Pinot Grigio and 2020 Arneis this week (along with a Rosso version of Sangiovese, the excellent 2019 Nebbiolo and Lagrein), the last of the 2016 il Palio blend– for release next week.

Our new Vivo! bubbles arrived from the Hunter last week, too. So, dear Members, di Lusso Estate stands ready to once again be able to offer a 'Full Portfolio' (just the Aleatico is missing, and we currently working at filling that gap with a limited range of earlier vintage Aleatico).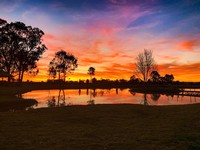 Our plan at this stage is to let the new arrivals overcome any initial 'bottle shock' they may have, and to offer a Summer Members' Special sometime in January. In the meantime, the newly bottled wines are 'in stock'. I'd just suggest waiting a week or two before opening one up!

I'm sure you'll join me in bidding the 'challenging' 2020 farewell, and here's hoping for a more settled 2021.

'Buon Natale'