10 February 2021 | Italian Wines | Robert Fairall
Arneis. The Re-birth of a Classic
---
Origins
This variety, native to the hillsides of the Roero near Alba in Piedmont, was a classic white table wine variety at least as long ago as 1350 AD. Over the centuries since, with its characteristic of zero tannin and pleasant perfumed aromatics, it became used more as a blending agent to reduce the notoriously fierce tannins of Nebbiolo…in particular the tannic brooding styles from the villages of Barolo and Barbaresco.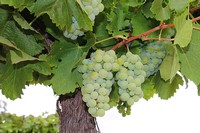 In the last eighty years or so, however, its usefulness as a blending agent to modify the 'aggression' of Nebbiolo further declined. Producers started using other methods of bringing the drinkability of Nebbiolo forward by a decade or more – from up to twenty years down to around five or so. Only a couple of producers (including notably Vietti, another favourite of ours) didn't lose faith in it as a varietal white table wine.


Grapes contain thousands of tannic compounds, known as phenolics. Most of the tannins are in the skins and seeds, and they are extracted during the winemaking process. They are an excellent natural preservative, and give the wine structure. But some are harsh and bitter; and some taste "green" or unripe. Techniques such as micro-oxygenation (for tannins) and malolactic fermentation (for harsh acidity) became standard in the industry in the second half of the twentieth century, and wholesale replacement of Arneis with Barbera and Nebbiolo occurred.

Folklore has it that Arneis retreated to two vineyards, when someone asked the question, "What do think this tastes like as a table wine?" And of course, as they say, the rest is history.
---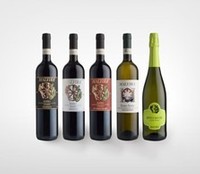 Our favourite Arneis producer, Malvira, has certainly taken advantage of this renewed popularity. Their winery, just a stone's throw from the village of Barbaresco, produces FIVE different wine styles from the Arneis grape – a 'regular' dry white and a premium of the same vintage, a sparkling Arneis, an Arneis rosé and a vin santo style!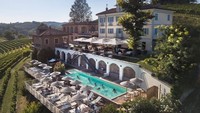 The fifty-meter strip of lawn from Malvira's winery to the vineyard, when we visited there in 2009, was lawn. Today, their website features a luxury boutique hotel – complete with a magnificent swimming pool.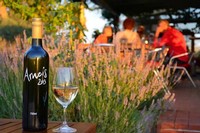 At di Lusso Estate, we planted just over an acre of Arneis on our Brambletyne site. Despite the variety's reputation as being 'tricky in the vineyard', our experience is positive. And equally so in the winery, with a succession of good wines that provide the basis for our Vivo! bubbly.
Rob