12 March 2021 | di Lusso Estate, Figs | Robert Fairall
Fantastic Figs!
---
Figs in one form or another have been on the planet for at least eighty million years.
Of course, its easy to stick around if there are more than 900 different species of you, which there are... But botanists have ascribed their longevity more to their characteristics than their range of varieties. To botanists, the winning factors are their universally beautiful taste, combined with their 'accessibility'. No tough skin, for example.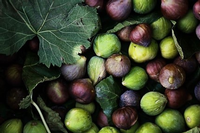 Figs attract the widest range of seed transporting animals in the whole of the plant kingdom. They are ecological linchpins, sustaining more wild birds and mammals than any other fruit tree on earth.

Figs are also the source of more myths and legends than any other fruit (or, more botanically correctly, a 'false or multiple fruit', as the flowers and seeds grow together to form one gorgeous single 'mass').
---
Figs at di Lusso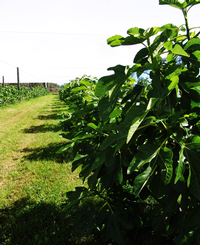 We grow five varieties of common fig at di Lusso Estate. All are female parthenocarpic varieties, and do not need pollination to produce fruit. So no need to deal with those little propagating wasps! Every year since 2003, my girls have performed the same ritual.
First, a showing of Black Genoa ripeness tells me it's the second week of February.

A week later, it's the turn of the White Adriatics (my favourite flavour, if I'm pushed to name one) to come to ripeness, with a more sustained season of six weeks or so. Meanwhile, my two lesser varieties Preston Prolific and Excel start moving.

Back comes Black Genoa with another season, then the mind-boggling champion of the orchard and juggernaut - Brown Turkey.
This lovely, patient variety is last to move, but more than makes up for this with a massive crop of around 1500 figs a tree that grows to the very top of the fig enclosure (or more than four metres). It is primarily the brown Turkey that keeps producing until the first frosts of May.
---
di Lusso Fig Products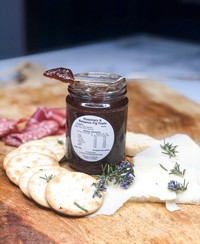 Steve Pavich, the Estate's fig man, is out there almost every day, picking up to two thousand figs a day; sorting the crop between cellar door stock and crushed figs for 'product'.
Product then moves under the control of Marcus Platt (one of several genii I'm blessed with at di Lusso) and who delivers a half dozen different flavours of fig pastes and vinaigrette (amongst much more farm produce) to the farmhouse door for our visitors.
And while all this is happening, the resident di Lusso spiders are ensuring the quality of the crop. I have never had to spray the figs in nearly twenty years, thanks to our golden orb weaver army that descends onto the trees as soon as the annual fig gnat plague begins early February.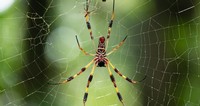 These magnificent spider-hunters grow from 5 mm (.2 of an inch) to 5 cm (2 inches) in a season – and end up comprised entirely of exactly what I don't want to find on the crop. (The only disconcerting feature is their habit of building their nets across the inter-rows of the orchard; meaning that driving the ride-on mower becomes a very interesting, and gastronomic experience!
Robert