20 May 2020 | di Lusso Estate, Winemaking | Robert Fairall
Vintage Reflections
---
Hi Everyone,
End of the vintage leads one to reflect on the wine of the current and previous seasons. Thinking about winemaking, here's a little secret …. the best wines make themselves. Yes… that's right… an excellent wine is one where a winemaker does just the "standard winemaking," and the result is fantastic. "Great vintages begin in the vineyard", it's excellent fruit that makes winemaking easy.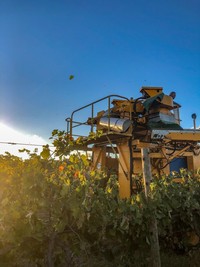 For example, the 2018 vintage was very easy… A long summer, followed by a warm, dry autumn resulted in excellent fruit across the vineyard. And if you're a lover of Mudgee wines, you'll be happy to know that the whole region experienced above average levels of quality… but at the cost of a significant drop in yield (which is generally a good thing!). Our favourites wines that year were the Lagrein and the Arneis 2019 was undoubtedly a season of drought, with a dry summer following a dry winter. We took advantage of our very good irrigation setup to replicate a 'normal' European winter with weekly waterings through winter, so that during the hot summer the vineyard's resistance to drought both below ground and in the canopy was higher. Like its predecessor, the 2019 outcome was high fruit quality but with a bigger crop.
Of the 2019 wines, at this stage (bearing in mind not all have been bottled), I particularly like the Sangiovese and the Barbera (including our first ever sparkling Barbera which we call Vivace! The 2019 Nebbiolo sits closely behind. Then along came the 2020 vintage. Were we tested? Yes! Firstly, the third year of drought brought a quite small and inconsistent – and late – flowering and fruit set. So late was fruit-set that the fires that began seriously in September and which brought a pall of smoke that hung over New South Wales for some months from October caused few problems for us. (But the same could not be said for many other growers, particularly those to the east of the town; or for unirrigated organic growers, whose fruit tends to flower earlier). Despite more sampling and tasting than ever before, we could find no fault in either the Arneis or the Vermentino were excellent. Then, a few weeks later, our early-picked Sangiovese (for Vino Rosato) checked out really well.
The 2020 reds required very careful handling. We were very away of the risks attached to 'standard' practices of ours. Maceration (that is, the soaking of skins during and after fermentation), oak maturation (we initially only used stainless steel for malolactic fermentation), and very frequent panel-tasting of the red wines before bottling. (None have been bottled yet). So far so good! We've not detected any smoke-taint so far in any of our own wines, but continue to be watchful. So, what's my favourite wine from 2020? At this early stage, I would say the Vino Rosato, followed by Vermentino and Arneis. I'll reserve my judgement on the reds until just before bottling, but my hopes are high.
Finally, talking about bottling. I aim to have our 2020 Vino Rosato released in June ("due to popular demand"), with the 2020 Vivo! sparkling next – in August. And remember, if you have any questions about the wines, please call or email me. I always look forward to a conversation with wine club members.


Regards
Rob Fairall