18 September 2020 | Italian Cuisine | Robert Fairall
White Gold. The White Truffles of Alba.
---
Readers of this blog may have experienced – and hopefully enjoyed – a dish or two at a di Lusso Estate Truffle Day. We can only serve the black Perigord truffle – the only available type of truffle outside of the Alba region Piedmont in Italy, le Marche in central Italy and a small slice of the Balkans where the famed white truffle is found – and the experience is pleasant enough, but I must say not a patch on the white truffle that Luanne and I have experienced several times in Alba.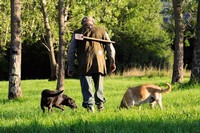 < Truffle country in Piedmont
Ignoring the peasants who associate the truffle with 'just like toe jam' (as we called the smell of our locker room youth), and those who claim the smell is that of testosterone (lucky analysts, I guess) the white truffle aroma, produced by soil bacteria trapped inside truffle-fruiting bodies, is best described as intensely musky, with a buttery, garlicky, sweaty intensity.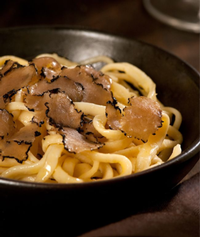 But the white truffle's ability to transform the taste of a simple poached egg, bowl of linguini or even just a piece of toast, is extraordinary.

At our usual Barbaresco hotel – the Locanda Rabaya – shaved white truffle is served every evening for four weeks in late September/ October– almost always with pasta washed down with Barbaresco wine from the village itself. Unforgettable!

Recently, we saw the much- heralded Italian documentary Truffle Hunters, which traces the last few years of a community of old hunters and their dogs. There was no commentary; just the real-life conversations between hunters, between these old men and their dogs, interspersed with shots of the very lucrative global food industry that has been built around the white truffle. Poignant and beautifully filmed…. But sad, very sad.
These octogenarians could just not understand how what was happening….what was once a pastime enjoyed by Piemontese in the rugged hills of our favourite part of Italy had changed so dramatically. (We recognised many of the scenes in the documentary from walks we had enjoyed along the banks of the Tanaro, which flows around the town of Barbaresco).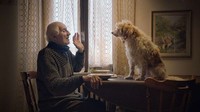 Nowadays, conversations were more likely to be about truffle dogs being poisoned by jealous and unscrupulous competitors, families being separated by greed, men being unable or unwilling to retire even at the age of ninety as they chase the 'next and final giant truffle', ways to unfairly manipulate the price of white truffle price in the market headquarters in Alba by subterfuge.
A scene from the documentary….an elderly hunter enjoying dinner with his best friend.
And then I came across an article purporting to 'capture the commercial essence of the white truffle industry'. It came complete with industry projections of market size (generally smaller each year), forecast downstream demand, SWOT analyses, CAGR market growth estimates, scenario after scenario etc etc etc. I couldn't help thinking it was a pity that our 'global economy' had devalued yet another noble and ancient craft.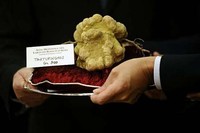 PS. The price of white truffles is quite astounding…the bigger the truffle, the higher the price by weight. In a 'normal' market, a very large white truffle will sell for well over $10,000 a kilogram.
In 2010, a white truffle weighing less than two kilos sold for US330,000! Needless to say, scientists around the world – led by the French, of course – are trying to grow the white truffle in other parts of our planet. Without success, so far at least!
Our Nebbiolo has origins in the Piedmonte region and is an excellent match for Truffles, or indeed any Italian meal that features mushrooms (Porchini Fungi Risotto, anyone?).
Robert