News
Wine, olives, figs, food and functions... there's a lot happening at di Lusso Estate!
SUMMER NEWSLETTER
There's been a familiar pattern to Summer at di Lusso Estate. A busy November in both cellar and restaurant gives way to a quiet spell in mid-December, replaced in turn by plenty of activity (especially around the pizza oven) from Boxing Day through the second week of January (which is when I am writing from).
While all this is happening at the Winery, life on the farm in general is speeding up. Red grapes are beginning to show some red (known as veraison), we're patching the holes in the fig netting (made mostly by kangaroos over winter), bird nets are on the Aleatico and Sangiovese; the olives begin to show their crop size as they peek out from behind their protective leaves.
And in the gardens, weekly mows are necessary – reducing to fortnightly after Australia Day Weeds threaten to take over everywhere, but for now are hidden by rampant English lavender. The Irises are a distant memory, waiting to be dead-headed.
This time of year, we're weather-obsessed. I happened to mention to a friend in the Bush fire brigade that things seemed to be much quieter than normal - normal this time of year is constant helicopter and light aircraft action coming from the next-door Mudgee Airport. "Na", he said, "There's plenty of action out there – forty plus fires to the north, mostly. That's where our assets (fire-fighting equipment) have gone".
Its been hot. Every day for three weeks from Christmas, we've been over 35 degrees. And there have been a few 40's. That's on average half a dozen degrees hotter than last year. So, it's happening all right.<
But so far, no hail this season (famous last words?). Six days of rain in each of the last three months of 2018 – three days this week already – so we're lucky, all three crops are looking good so far.
Figs are due on stream second week of February. In time for the start of our Festival of Figs 2019. So I've taken the liberty of repeating the dates, in the hope that it'll be popular, as it was last year.
We have a new winemaker!
Our new winemaker, Tony Hewitt, hails from New South Wales – Denman in the Hunter Valley to be precise.
Tony came on board in November last year, and shared duties with Dave Kyngdon before David left in December.
Tony attended Charles Sturt University in Wagga Wagga, and has spent time making wine around Australia as well as stints in the northern hemisphere; in Germany and in America.
In addition to winemaking, he has worked in both the Olive industry and in the cheese sector on Bruny Island.
Tony is a therefore well and truly a 'spiritual Italian' like I am, and I look forward very much to our Italian partnership.
A note on red-white blended wines, and where Arneis fits in
Italy is better known for its premium reds than for its white wines – except for Pinot Grigio and Prosecco. Spain is the same, whereas in France, Germany and Austria the standings of red vs white is either even or balanced in favour of whites.
Yet many premium red wines have, in fact, some white wine in them. The best known of these comes from Cote Rotie in France, where the white grape Viognier is used in a number of premium shiraz wines that the region is famous for. Apart from being handy (the two varieties grow best alongside each other). Viognier adds elements of floral, spicy peach to the meatier flavours of shiraz), as well as rounding out the mouthfeel of the wine.
Champagne, of course, is a white wine blend comprised mainly of red wines. Over the centuries, each component variety has been carefully crafted to best contribute to what is arguably the greatest wine style of all– pinot noir for the body, structure and complexity of flavours, the pinot meunier (apparently - I've not tasted a varietal Pinot Meunier) for a 'ready-to-drink now' fruitiness, and Chardonnay (the most crafted grape of all) provides the elegance.
In Italy, one finds plenty of examples of (usually undeclared) red-white blends. When the Italian government embarked on its gigantic program in the latter part of the 20th Century to clean-up the mess caused by a decades of neglect, they quickly discovered that the main problem resided in the vineyard. For example, the red wine style Chianti came from vineyards that almost all contained Malvasia or Trebbiano, or both (and often more besides!). Two quite characterless white varieties, but easy to grow. The DOCG specification of Italy's most popular red wine only outlawed the use of these two varieties in 2006, some forty years after it was 'discovered'. (I've enjoyed very many Chianti's that probably had more than a tad of the ubiquitous Trebbiano in it – I can't say it did any harm as long as the wine itself was carefully made!).
In Sicily one finds dozens of white blends, some of them very pleasant indeed, made from a whole host of little-known varietals like Grillo, Greciano and Cataratto. These are given volume (and little else, in my view) by Trebbiano, and elegant structure by Chardonnay. for nthe most part, they re unpretentious, but very food - friendly and pleasant.
Here in Australia, the Sem-Sauv blend is one of the country's biggest selling styles (and has no competition in the blended white wine sector). These varieties work well together, with sauvignon blanc adding intensity of flavour and acidity, and Semillon providing weight and complexity. A good balance.
Arneis
This white wine variety from Piedmont has been around for at least five hundred years. Prior to quite recently was used almost exclusively as a blending grape for Nebbiolo, in the making of Barolo, Barbaresco and Nebbiolo d'Alba premium wines. Small amounts of Arneis would either be co-fermented with the Nebbiolo or added afterwards…Nebbiolo is renowned for tannins, whereas Arneis is very low in them. Their use in the blend would be to bring forward the 'drinkability' of the wine, as does the slight sweetness and perfume it contributes to the blend. Historically, most Barolo's needed up decades of aging to achieve enough balance and softness to enjoy for most people.
With the increased use of micro-oxygenation (which mimics the effects of slow barrel maturation) and malolactic fermentation, (where tart-tasting malic acid, naturally present in grape must, is converted to softer-tasting lactic acid), the need for a blending grape fell away.
Most of the Arneis around its natural habitat around the Roero River north of Alba was taken out in the 1990's and early 2000's
Now, the reverse is happening. Our favourite Arneis producer is Malvira, located near the town of Canale, in Piedmont. They have totally changed their business model – from a wholesale producer of 'industrial' Arneis for use by the neighbouring Nebbiolo producers to a premium producer of a very select premium varietal wine producer. They boast a smart cellar door operation featuring five distinct styles of Arneis*, plus a luxury eight guest room agriturismo Villa Tiboldi (pictured below,) situated in their hillside vineyard.
The Villa Triboli…in the heart of Arneis country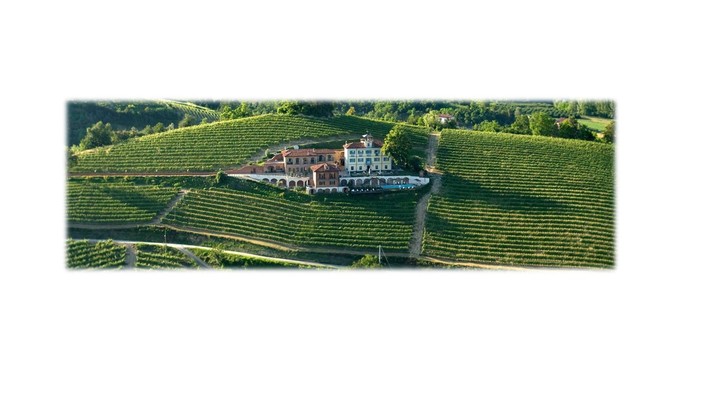 Called Chef Ali's Dish of Summer….Mediterranean Sardine Salad
One of the most popular dishes on our Summer Trattoria Menu is the Sardine Salad.
Ali's recipe is from the south of Italy – picture a Sicilian seaside village – but it could just as easily be Portugal, or Greece, or Croatia. They're at their best, lightly fried both sides and served outside
Sardines go with everything – tomatoes, sauerkraut, curry, egg, mashed with vinegar salt and lemon, grilled, pan fried; in a wrap, skewered, on a pizza, in pasta etc.
And, somewhat to my surprise, they're super healthy. Packed full of omega 3 fatty acids, vitamin D, and high in minerals such as phosphorus, calcium and potassium. Healthier than salmon, even.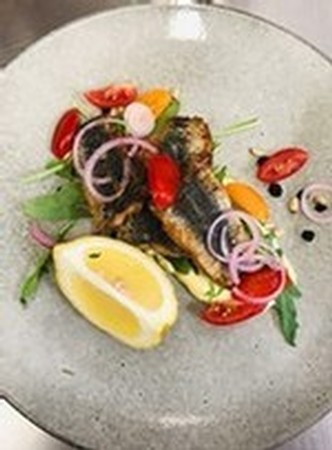 Ingredients (for 4 people)
12 fresh large sardine fillets (easy to find in Sydney, but harder in the country)
One tablespoon of capers, drained
500 g bag of salad leaves
100 g pine nuts
100 g currants
100 ml lemon vinegar salad dressing
I medium size red onion, very finely chopped or sliced
250 g of finely diced tomatoes – the tastier the better!
Method
Set up each plate with a bed of salad mix, capers, currants and red onion. With three for each plate, cook each fillet less than one minute each side and place on the prepared salad. Sprinkle the pine nuts, tomatoes and red onion.
Serve with a glass each of our 2016 Arneis!
Bit of a January Clear out… Some Summer Specials,
and Members' New Release Discounts
I'm pleased to report that our new Vivo! And new Moscato have finally worked their way through the Christmas commercial lethargy, and are ready for sale.
We've absorbed a fair bit of cost increase through the process (whatever happened to inflation at 2%?!) to land both wines at last year's prices. $25 a bottle for each.
The Vivo! Arrived from its carbonation in the Hunter Valley full of lively bubble and nuanced Vermentino flavours. To be enjoyed both 'straight' and with Aperol and soda water!
For this release, we have used Aleatico (a member of the ubiquitous muscat family) for our Moscato. The elements that make this wine truly 'sorbet in a glass' remain. Delicious flavours of lychee and strawberry, gently frizzante and light in alcohol and sugar; over the years this has been amongst our best selling styles, and I think this wine will be very popular, too.
Straight case dozen of the 2019 Moscato and the Vivo! $240 (Cellar Door price $284). Price for the Second and subsequent cases $220
I'm keen to reduce the size of our 2017 Arneis stockpile, to make way for its successor, the 2018 (which in turn needs to be bottled to make tank space for the 2019 which is in good shape in the vineyard and will be wine by Easter). Ah, the logistics of a small winery!
And while I'm thinking about it, I'm in a hurry to get to the 2018 Sangiovese….so the 2017 Sangiovese Rosso is on the chopping block… $165 each a case (Cellar Door price $194) for two or more cases
And there's free freight to most locations – or an extra bottle to Members who collect their wine from Cellar Door.
23 September 2017 |
Wine Maker
The start of the growing season is always exciting.
As the dormant vines wake from their winter slumber, they start to mobilise reserves of carbohydrates, sending a sweet sap up from their roots and trunks, and into their cordons and spurs.
Sometimes you'll see an entire vineyard sparkling with tiny drips of sap; the sap collects on the tips of the spurs before they drop… and in a quiet morning, with the sun still rising, all you can hear is the gentle pitter-patter of thousands of little droplets… and if you catch one, you can taste a lovely infusion of sugar, wood and earth.
Sap rise marks the beginning of the beginning: where the dormant buds start to swell, utilising the sweet sap for growth, before they burst with little woolly buds that splay out rapidly with leaves.
At di Lusso, bud burst happens in mid to late September, with Nebbiolo and Aleatico being the first vines to burst. A heavy winter rainfall gives the vines a great boost, and they will quickly become overly vegetative if left untended.
And so the Spring and Summer work begins: going from vine to vine, removing excess shoots to ensure that the summer growth can be maintained within a healthy canopy architecture.